What is better than the best German food in the states paired with an authentic Bavarian town and a great crew to enjoy it all with? Not much can beat that, and if you are looking for the best German food in Helen, you'll have to hop around to sample the best of everything. Each restaurant specializes in a particular dish, from schnitzels to sausages, goulash, or potato salad. If you only have a limited time in Helen, or you want to kick off your trip with a bang, then sign up for a Helen & Back Food Tour.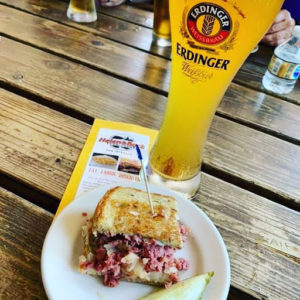 Where does the tour take me?
Each tour starts off at King Ludwig's Biergarten right in the heart of Helen. Your enthusiastic tour leader, Heather, will take you around the village to 6 different restaurants each offering tasty German treats for you to sample and enjoy. All the food you enjoy is included in the price of the tour and is more than enough to fill you up by the end. Walk from restaurant to restaurant in charming downtown Helen while learning about the unique history of the village and each German restaurant.
Can I drink on the tour?
Of course! Helen is known for the deliciously crisp german lagers and pilsners. While beer isn't included in the fantastic tour cost of $32.95, you can buy a pint at any of the stops along the way! I would even recommend getting to King Ludwig's Biergarten a bit early to enjoy a nice cold brew before the tour starts!
How long is the tour?
The tour starts at 2 pm and runs until 5 pm. You spend about 25 minutes at each restaurant sampling the flavors curated by local chefs. This is the perfect activity to do after a day of hiking and shopping or on your first afternoon in town. After 5, you are already in the village and stuffed with tasty food so you can explore some of the nightlife and shows in town.
What days can I sign up for the tour?
Right now, Helen and Back Food Tours have tours during varying days of the week and you can always check the calendar to see what days excursions are planned. If you are in town on a day with no tour listed and want to take a food tour with your friends or family then call to see if you can have a private tour on a different day. As long as you have 4 or more people, Helen and Back Food Tours can arrange a private tour and have a blast with your favorite people. Tour groups can accommodate up to 12 people so you can plan your birthday party, bachelorette party, or family reunion around this great excursion!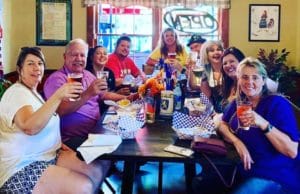 Your tour guide isn't only a food expert, but an overall Helen expert. Ask her about her favorite attractions, hikes, activities, and even where to find the best cocktails in town. I would suggest signing up for a tour on your first day in town, as you will want to revisit these restaurants again once you get a taste. Eat, laugh, and discover Helen on the food tour of a lifetime. Grab the whole group, your closest friends, or plan a secret surprise birthday party with a trip that no one will soon forget. To plan your Helen & Back food tour adventure, go to helenfoodtours.com or call (404) 663-4842.
Planning a trip to Helen, Georgia? Book a stay at Sylvan Valley Lodge & Cellars, a charming bed & breakfast winery located at the base of beautiful Yonah Mountain.