Wine Dinners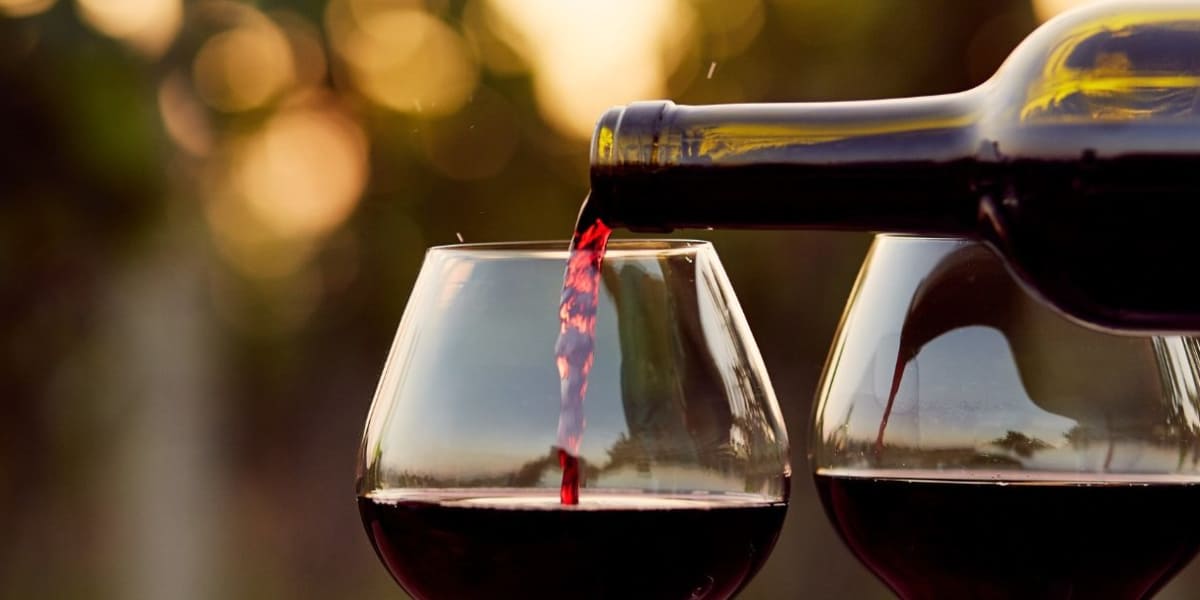 Sautee Farm Fresh Wine Dinner
Join us Saturday evening, June 9th for a Frolicking Faerie Wine Dinner at Bernie's Restaurant in Sautee. This dinner will feature a cocktail reception and three courses, each served with a glass of wine. We will be releasing our newest Red, Freya, at the dinner. Tickets, outside of the lodging package, are $75 per person inclusive of taxes and gratuity and may be purchased here. Our Wine Weekend Getaway package is available for lodging and includes two tickets to the dinner plus transportation to and from Bernie's that evening.

Reception:
Original Cocktail prepared by Bernie's talented mixologist Rachel paired with Tomato Onion Goat Cheese Tart served outside weather permitting

Salad Course
Frolicking Faerie Grace (100% Georgia off-dry blend of Vidal Blanc, Pinot Blanc, and Chardonnay)
Grilled Peach Salad with Wasabi Vinaigrette

Main Course
Frolicking Faerie Freya (100% Georgia Cabernet Franc)
Metro Filet of Beef with Freya infused demi-glace, served with Chef Monda's Decadent Five Cheese Macaroni and Cheese, and Haricovert

Dessert Course
Frolicking Faerie Sybil (100% Georgia dry Rosé)
Southern Style Blackberry Cobbler topped with Sybil Zabaione Cream
Tasting Room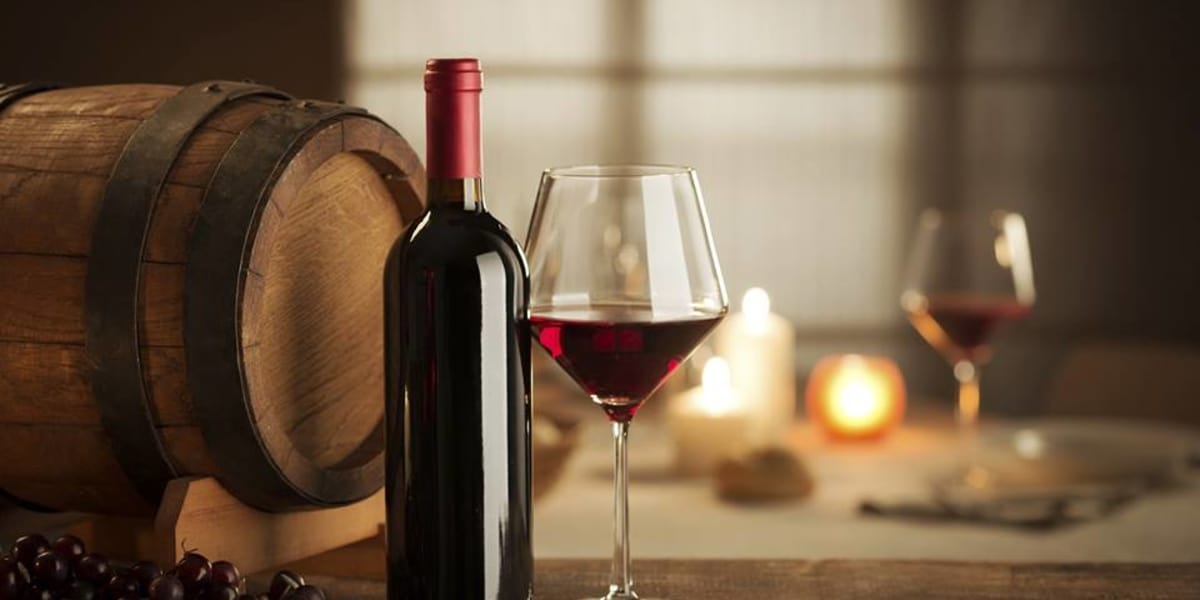 At Sylvan Valley Lodge and Cellars, we believe experiencing local wines and craft beers should be an adventure for the soul. British Travel Writer Pico Lyer once said. "A traveler is really not someone who crosses ground so much as someone who is always hungry for the next challenge and adventure." To that, we say, "Welcome traveler, your adventure awaits!"

Tasting Room Hours
Home of the Frolicking Faerie Wines, our Tasting Room is open to the public Fridays and Saturdays 1pm-6pm. Other days/times are available for groups of 8 or more by appointment. We offer tastings of our Frolicking Faerie wines. In addition, we also have other Georgia wines available by the glass or bottle, craft beers, hard ciders, and cheese and charcuterie plates for two—packed to go so you can enjoy them anywhere on our property, or take them with you on your wine adventure. Staying? We do wine tastings for our guests daily.

Group Tastings
Group wine tastings, with or without lunch, for chartered bus/limo tours or groups of 6 or more individuals are available through the week and on weekends by reservation only, scheduled at least 48 hours in advance of your tasting. For more information or the reserve a group tasting, please email info@sylvanvalleylodge.com or call 706.865.7371.

Tasting Fees
Taste 6 wines for $12

Pet Policy
Well-behaved, leashed dogs are welcome outdoors at management discretion.
Frolicking Faerie Wines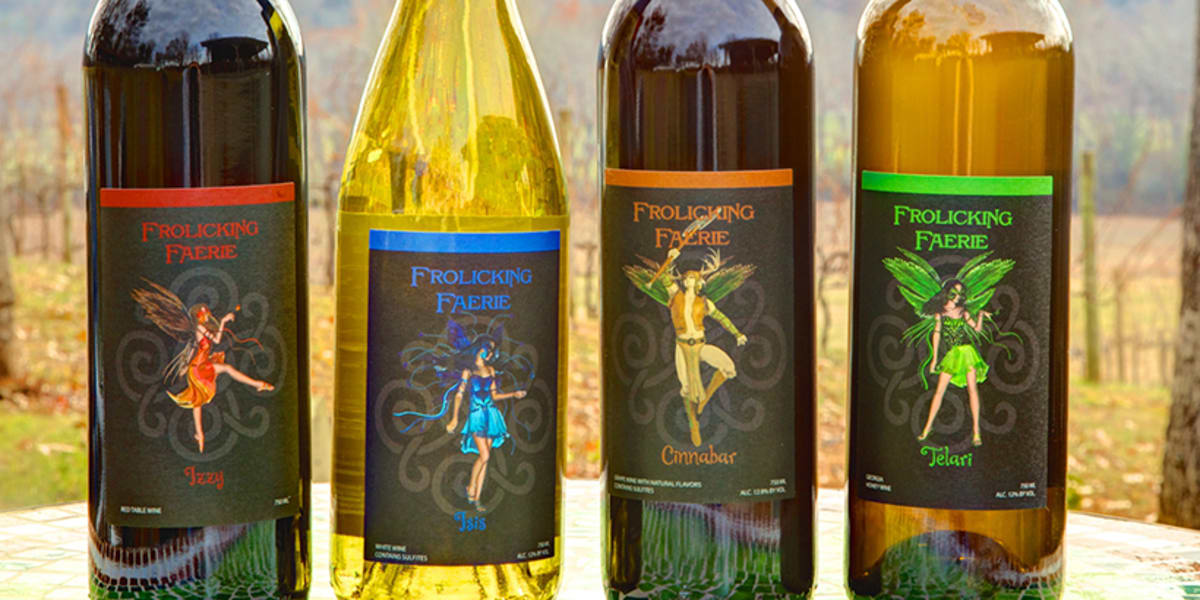 If you drink enough wine, you'll see Faeries…
If you drink a little bit more, they'll tell you their names. Let us introduce you to the Faeries we have met so far on our wine adventures.
WARNING! Drinking the Faerie Wine may cause an inability to fly, but drastically improves your ability to see Faeries.
Our Current Selection:
Frolicking Faerie Blanche (Dry, White)
A refreshing Georgia made, Texas grown Blanc du Bois. Zesty acidity takes the first punch, remaining brightly balanced and explosive on the palate, with notes of white peach, grapefruit and tropical lychee.
Frolicking Faerie Sapphira (Dry, White)
100% Georgia grown Pinot Blanc. Tart and ripe in grapefruit and lime, this is an easygoing quaff with buzzy acidity enjoyable on a summer's day or at a casual gathering. Light, it finishes muted and fast.
Frolicking Faerie Grace (Sweet, White) – Award Winner
*Georgia Trustees Wine Competition for 2016, Silver Award
This delightful blend of Chardonnay, Pinot Blanc and Vidal Blanc is just sweet enough, but lightly and delicately so. Overall, very balanced, an elegant wisp of a off-dry wine with acidity that lingers through the mid-palate.
Frolicking Faerie Sybil (Dry, Rose) – Award Winner
*Georgia Trustees Wine Competition for 2016 & 2017, Bronze Award
This European style dry Rose is made from Georgia Vidal Blanc and Cynthiana. Light, with fruitful undertones and a crisp dry, lingering finish.
Frolicking Faerie Wylder (Dry, White) – Award Winner
*Georgia Trustees Wine Competition for 2016, Silver Award
Spicy acidity lies beneath the richness of this 100% un-oaked Chardonnay, providing balance, freshness and a lightness on the palate that surprises. Meyer lemon, salty caramel and a feral overtone of forested woods combine effortlessly to intrigue and delight.
Frolicking Faerie Callie (Dry, Red) – SOLD OUT
This 100% varietal and barrel-fermented wine is a remarkable study in power and grace. Black cherry, cigar box and cedar bark flavors and an invitingly sweet sensation of tannin are supported by bright, lingering acidity and supple complexity.

Learn More About Frolicking Faerie Wines
Visit us today to purchase Frolicking Faerie Wine, or visit our Tasting Room to learn more about our unique variety of wines.