We know there are many destination wedding venues to choose from, but Sylvan Valley Lodge & Cellars is the perfect choice for the Georgia ceremony of your dreams. Our location in the heart of wine country against a breathtaking mountain backdrop offers an intimate and romantic setting to say your "I do's." We would be truly honored to help host your special day. Here's what sets Sylvan Valley Lodge & Cellars apart from other destination wedding venues across the country.
Wine Country Romance
Sylvan Valley Lodge & Cellars is a beautiful winery bed & breakfast located along the Unicoi Wine Trail. If you've always dreamed of a wine country wedding, Sylvan Valley Lodge & Cellars is just the place for you. We have a winery on-site where you can enjoy Frolicking Faerie Wines and Clan Reserve Handcrafted Meads in our Tasting Room and Wine Bar. A warm and inviting space with a large stone fireplace and incredible views, there is simply no better place to enjoy North Georgia wines. A wedding in North Georgia gives the bride, groom, and their guests access to some of the most delicious wines in the region.
Incredible Wedding Packages
At Sylvan Valley Lodge & Cellars, we offer two incredible wedding packages: the Destination Wedding Package and the Elopement Package. For weddings with up to 100 guests, the Destination Wedding Package provides the bridal party and their families with more time to relax and enjoy the moment together both before and during the big day. Our entire property (eight rooms and two cabins) will be exclusively yours for the entire weekend. For a more intimate celebration, consider our Elopement Package, specially designed for couples who want a smaller number of guests without sacrificing the romance and beauty of a destination wedding. Check out our blog post for more information on our wedding packages.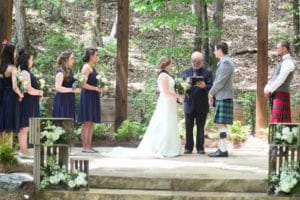 Freedom & Ease
When you choose Sylvan Valley Lodge & Cellars, we give you the freedom to plan the day just how you want it. There are no beverage or food minimums and no exclusive list of vendors to choose from, meaning you pick the caterer, florist, and DJ, that you want. We'll share our list of favorites, but the decision is totally up to you. The owners live on site, so you don't have to worry about dealing with a middle person. We also offer retail beer and wine pricing. We charge you what you'd pay if you purchased it elsewhere, but we save you the trip. At Sylvan Valley Lodge & Cellars, you'll enjoy the freedom to plan your nuptials as you please and the convenience of hosting a wedding at a destination that truly cares.
Planning a destination wedding in Georgia? Contact Sylvan Valley Lodge & Cellars to start planning romantic wine country wedding of your dreams.