Don't worry if you only have 48 hours to explore Helen. It is easy to enjoy the many highlights of North Georgia in just a couple of days. During your weekend getaway, you'll enjoy wine tasting, hikes, waterfalls, historic sites, and delicious food. Read on for the perfect 48 hours in Helen, Georgia.
Day 1: Wine and Waterfalls
Start your first day off with a delicious, made-to-order breakfast at Sylvan Valley Lodge & Cellars. From there, you'll spend your morning exploring one of the most beautiful waterfalls in the region. At just under half a mile, Anna Ruby Falls trail is an easy and pleasant hike that leads to two beautiful waterfalls. Once you reach the twin falls, you'll find viewing platforms where you can watch the falls cascade over multi-tiered rock walls to the boulder-filled pools below.
After enjoying the beauty of nature, it's time to start you North Georgia wine tour. The region's mountainous terrain and rich soil combine to create a distinctive class of wines that have helped to make the region an up-and-coming wine destination. Yonah Mountain Vineyards is a beautiful 200-acre winery located at the base of beautiful Yonah Mountain. At their tasting room, you can try 5 of their finest wines for just $20. To go a little deeper into the wine making process, schedule a Cave Tour and Tasting, where a guide will take you through the only known underground wine caves in all of Georgia. The $40 tour, only available when scheduled in advance, also includes a tasting of 8 wines and a complimentary wine glass.
Another must do is Habersham Winery & Vineyards, one of North Georgia's oldest and largest wineries. It has been producing traditional Georgian wines since 1983. Their flagship location is just ½ mile south of Helen in the Nacoochee Village. You can taste their wines for $7.50 a person in their elegant and light filled tasting room. Be sure to enjoy a glass of wine (or two) in the tasting room at Sylvan Valley Lodge & Cellars, the perfect choice if you want to enjoy delicious wine without traveling too far. For more information on touring North Georgia's vineyards, read Our Guide to Exploring Georgia Wine Country.
After your day of sightseeing and wine tasting, you've likely worked up quite an appetite. Enjoy a mouthwatering Pan-Asian meal at Spice 55, which specializes in both Japanese and Thai cuisine. Spice 55 serves up mouth-watering satays, soups, curries, and noodle dishes as well as fresh sushi and Japanese mains. You can try classic sushi rolls or get experimental with inventive menu items like their Bagel Roll, Eruption Roll, and Red Hot Chili Pepper Roll.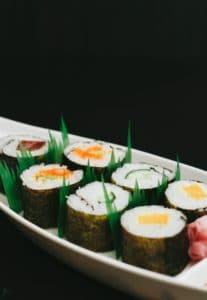 Day Two: History & Hikes
The North Georgia area boasts a rich history that has been attracting visitors for generations. Step into the region's past at the Hardman Farm Historic Site, located just two miles from Sylvan Valley Lodge & Cellars. This well-preserved 19th century home is the perfect way to get a little taste of Victorian life. You can take informative guided tours of the historic home, including the parlor and bedroom of Anna Ruby Nichols, the namesake of nearby Anna Ruby Falls. Visit the old barn to learn about how milk was processed and transported in the early 20th century. There is also a Sautee Nacoochee Indian Mound located on site, topped with a gazebo.
From there, drive 8 minutes and you'll arrive at Unicoi State Park, one of the most popular parks in all of Georgia. Within this beautiful 1,050-acre park, you'll find waterfalls, mountain lakes, and many excellent hiking and biking trails. The scenic centerpiece of the park is Smith Lake, a 44-acre lake surrounded by a lush forest landscape that is perfect for fishing, swimming, or simply sunbathing on its pleasant sand beach shores. Hikers will love the 2-mile Unicoi Lake Trail which loops around the stunning mountain lake. If you'd like to get your adrenaline pumping, take a zipline canopy tour with the Unicoi Aerial Adventure Park.
End your weekend with an incredible meal at Mully's Nacoochee Grill. Mully's is one of our favorite spots to send guests, and for good reason. Located in a charming country home with a modern atmosphere, Mully's chef-driven menu features the freshest farm-to-table cuisine, including hand-cut steaks, fried rainbow trout, and shrimp and grits. They also have a full bar with a daily drink menu including local and international wines and fine craft beers.
Planning a trip to Helen, Georgia? Book a stay at Sylvan Valley Lodge & Cellars, a charming bed & breakfast winery located at the base of beautiful Yonah Mountain.